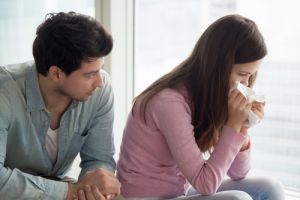 The death of a loved one is never easy, however, the grief and pain a family experiences is made worse when their loved one's death could have been prevented. A wrongful death case is meant to compensate the surviving family member for their losses, both emotionally and financially. The loss of a loved one is not only emotional but it has financial repercussions, as well. Funeral costs can climb into the thousands and families can face severe financial strain going from two household earners, to one. Learn more about wrongful death claims below.
What is a Wrongful Death?
A wrongful death is when someone dies through the legal fault of someone else. Wrongful death claims most commonly arise from medical malpractice and motor vehicle accidents, however they can also include product liability, workplace accidents and acts of violence.
Who Can be Sued for a Wrongful Death?
Because there are several situations in which a wrongful death claim may arise, there are several individuals and/or agencies that may be sued in the event of an untimely death. If a loved one was tragically killed in a motor vehicle accident that was caused by a drunk driver, the following people/agencies may be sued depending on the circumstances:
The intoxicated driver
The intoxicated driver's employer (if they were on the clock)
The person who served the impaired driver alcohol
The establishment that sold the impaired driver alcohol
The designer or builder of the roadway, if it was faulty
The installer, manufacturer or distributor of a faulty auto part
Who is Entitled to Sue for Wrongful Death?
Individuals who suffer damages, both emotionally and financially, as a result of their loved one's death can file a wrongful death claim. While these roles can vary from state to state, they often include spouses, parents and children. If you have questions about your eligibility to file a wrongful death claim, contact Rubin, Glickman, Steinberg & Gifford, P.C. for a consultation. We have over 270 years of combined experience handling these types of claims.
How Long Do I Have to File a Wrongful Death Claim in Pennsylvania?
All wrongful death claims must be filed within two years of the person's death. When you're dealing with the traumatic loss of a loved one, it can be incredibly easy to miss this window. This is why it's imperative to contact an attorney to make sure you and your family get the help you deserve. We're here to help relieve some of the financial stress and worry you and your family are dealing with at this incredibly terrible time.
Contact A Colmar Personal Injury Lawyer To Discuss Your Wrongful Death Case In Pennsylvania
Did your loved one pass away due to someone's negligent or harmful actions in Pennsylvania? Don't let the medical bills pile up. You need an aggressive personal injury attorney on your side, fighting to get you the compensation you need, want, and deserve. The skilled attorneys at Rubin, Glickman, Steinberg and Gifford, P.C. represent clients in Newtown, Doylestown, Lansdale, King of Prussia, Norristown and throughout Southeastern Pennsylvania. Call (215) 822-7575 or fill out our online contact form to schedule a consultation about your case. We have an office conveniently located at 2605 N Broad St, Colmar, PA 18915, as well as an office in Newtown, PA.
The articles on this blog are for informative purposes only and are no substitute for legal advice or an attorney-client relationship. If you are seeking legal advice, please contact our law firm directly.