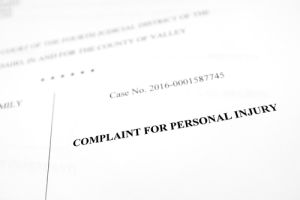 After being injured in an accident, you'll have many questions, including what to expect after you file a personal injury claim, how much money you'll be awarded and how long the process will take. Below, we go over the timeline of a personal injury case step-by-step, however, it's important to remember that your case may settle at any time.
Seek Medical Attention
After an accident, it's imperative that you seek medical attention, even if you feel fine. After an accident, adrenaline can often mask the true nature of an injury. Some injuries, like traumatic brain injuries, may not show any symptoms for a few days, whereas they could be seen on a diagnostic test. Getting medical attention is not only important for your own personal health and safety, but also in regards to a personal injury case. If you don't seek medical attention after an accident, the insurance adjuster and jury will think your injuries must not be that serious.
Contact a Lawyer
Once you've consulted with a doctor and have a medical diagnosis, it's important to consult with a personal injury lawyer to go over your options, especially if your injuries are significant and the medical expenses keep coming in. Most personal injury lawyers offer free consultations, so there's no risk involved in contacting one to see if you have a case. At Rubin, Glickman, Steinberg and Gifford, P.C., we offer free consultations. Contact us here.
The Lawyer Investigates Your Claim
After you've hired the lawyer, he or she will conduct a thorough investigation into your claim. It's important to be honest with your lawyer about how the accident occurred, what you were doing at the time of the accident, your injuries and your ongoing medical treatment. Even if you think it's a minor detail, tell your lawyer anyway. During this investigation, your lawyer will also obtain your medical records and bills relating to the injury.
The Lawyer Will Make a Demand Letter and Negotiate
If your lawyer determines that your case can be settled, he or she will write a demand letter to the other attorney or defendant's insurance company. A demand letter is a formal document sent by one party requesting payment from another to right a wrong action. If a settlement cannot be reached during this period, a personal injury lawsuit is filed.
Discovery Phase
The discovery phase of a personal injury case is when both parties will investigate the information the other one has. Each attorney will take depositions of witnesses and other relevant parties.
Mediation and Negotiation Phase
Once the discovery phase concludes, most lawyers will begin discussing a settlement. In some cases, the settlement can be reached between the attorneys themselves and other times they must go to mediation. Through mediation, both parties and their lawyers will try to resolve the case with the help of a neutral third party. If mediation doesn't work, then the case goes to trial.
Trial
Once a personal injury case reaches this stage of the process, a jury will need to be selected, opening statements will need to be given and evidence from all parties must be presented. After this process has completed, both attorneys will give their closing statements and the jury will deliberate, which will have no set time frame. Once the jury reaches a verdict, they will notify the judge who will read the verdict to both parties.
Contact A Colmar Personal Injury Lawyer To Discuss Your Accident Case In Pennsylvania
Did you or a loved one sustain serious injuries in Pennsylvania? Don't let the medical bills pile up. You need an aggressive personal injury attorney on your side, fighting to get you the compensation you need, want, and deserve. The skilled attorneys at Rubin, Glickman, Steinberg and Gifford, P.C. represent clients in Newtown, Doylestown, Lansdale, King of Prussia, Norristown and throughout Southeastern Pennsylvania. Call (215) 822-7575 or fill out our online contact form to schedule a consultation about your case. We have an office conveniently located at 2605 N Broad St, Colmar, PA 18915, as well as an office in Newtown, PA.
The articles on this blog are for informative purposes only and are no substitute for legal advice or an attorney-client relationship. If you are seeking legal advice, please contact our law firm directly.