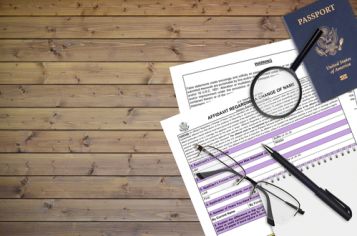 Legally changing one's name is a much more common event than you might initially think. People seek to change their legal name for a myriad of reasons, such as getting married or getting divorced. Depending on the circumstances under which you are changing your name, you may need to file a petition with the court to effect your name change.
Steps for Changing Your Name
Changing your name for marriage, divorce, or death of a spouse is a relatively simple process. When getting married, you can simply list your new last name along with your former or maiden name on your marriage certificate.  The marriage license serves as legal proof of your name change. If you are divorced or in the process, you can file a written notice in the county court clerk's office and reference your divorce case. Similarly, you can change your name back to your former or maiden name following a spouse's death by filing notice in the county courthouse along with a copy of your spouse's death certificate.
Changing your name under most other circumstances requires filing a petition with the court. The petition must specifically state that you seek to change your name, your current name and the name you want to use, and the reason(s) for seeking a name change. You will also need to submit your fingerprints to the state police who will check for any criminal history and note your name change on any criminal records you may have. You must also complete a records check and certify that there are no pending legal matters, judgments, or decrees against you.
You will also need to publish your notice of intention to change your name in two newspapers in the county where you live, although this can be waived if doing so would jeopardize your or a family member's safety.
Use Your New Name
In one to three months, the court will conduct a hearing at which it will consider your petition. Assuming the court grants your request for a name change, you will then need to take steps to begin using your new name, including updating your driver's license, Social Security card, voter registration card, or passport to reflect your new name.  You will need to submit your marriage certificate, divorce decree, or other court order showing that your name has been lawfully changed. 
You will also need to begin using your new name in your personal and professional life, including informing your employer and your bank about your new name (so that you can receive an updated work ID or credit cards) along with friends and family.
Limitations on Name Changes
Although you may generally change your name to whatever you like, there are a few general limitations on name changes, including:
Changing your name to avoid criminal liability or to hide from creditors
Changing your name to facilitate the commission of a crime
Changing your name with the intention to mislead other (such as taking a celebrity's name, unless you can offer a reason for the name change that is unrelated to the celebrity)
Using numerals or punctuation (although you can use words to spell out numbers, like "One" or "Two")
Changing your name to anything that would be considered offensive or obscene
Contact a Colmar Family Law Attorney for a Consultation About Changing Your Name in Pennsylvania Today
If you are thinking about filing for divorce, or if you have already started the divorce process and are dealing with another matter such as child custody, child support, or division of assets, you need to speak with a qualified attorney. The Pennsylvania family law attorneys at Rubin, Glickman, Steinberg & Gifford, P.C. represent clients throughout Southeastern Pennsylvania, including Doylestown, Lansdale, King of Prussia, and Norristown. We understand how challenging this time can be for you, which is why we will fight hard to protect your interests, and the interests of your loved ones, throughout the legal process. Call us at (215) 822-7575 or fill out our confidential contact form to schedule a consultation. We have an office conveniently located at 2605 N. Broad St., Colmar, PA 18915, as well as an office located in Newtown, Pennsylvania.
The articles on this blog are for informative purposes only and are no substitute for legal advice or an attorney-client relationship. If you are seeking legal advice, please contact our law firm directly.