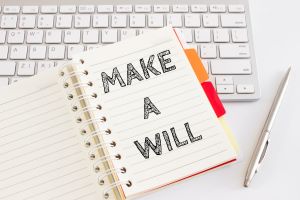 It's often stated that there are only two certainties in life – death and taxes. While death is inevitable for all of us, most of us shy away from thinking about this gloomy topic. As a result, the majority of us will pass on before making any type of preparations for our families.
If you're hoping to avoid this mistake, then it's time to start thinking about writing your will now. Are you interested in learning more about why wills are important? Learn the top three reasons why you need to write a will below.
1. Protecting Your Family's Future
A will is a legally binding document, so whatever you say in your will goes. You'll be able to decide how you want your estate and possessions distributed after your death. Without a legally-binding will, your family will have to figure out how to disperse your belongings amongst themselves. This often leads to conflict, especially when emotions are high after they've just lost a loved one.
If you don't want specific people to receive any inheritance, then you can note that in your will. By doing so, you'll save your family from experiencing a time-consuming probate process.
Wills are especially crucial if you have children under the age of 18. Have you ever considered what would happen to them in the event you passed away? You can safeguard your kid's futures by deciding who will take on legal custody of your children after your passing. If there's no will, then your children may go to family members or even a state-appointed guardian.
2. Protecting Your Assets
A will also safeguard your assets. Without one, your assets will simply be divided up and given to any living heirs you have. Courts will use a formula to decide who receives what.
3. Reduce Your Estate and After-Death Taxes
After you pass on, your remaining assets and money will still be subjected to taxes. These estate taxes increase when you don't have a will. The reason for this is because legal fees will be added on when courts have to divide up your assets. Gifts of up to $13,000 aren't subject to an estate tax, so you may choose to give your family hefty gifts rather than have them be subjected to taxes on their inheritance.
Contact a Newtown Estate Planning Attorney for a Consultation About Wills in Pennsylvania
You deserve to have peace of mind about whether your loved ones will be taken care of after you are gone. The best way to plan for your future, and the future of your close family members or other loved ones, is to speak with an estate planning lawyer about your specific circumstances and financial situation. The experienced Pennsylvania estate planning attorneys at Rubin, Glickman, Steinberg & Gifford, P.C. assist clients with wills, trusts, and other estate planning documents. We represent clients in Lansdale, Hatfield, Blue Bell, North Wales and throughout Pennsylvania. Call us anytime at 215-822-7575 or fill out our online contact form to schedule a confidential consultation. Our main office is located at 2605 N. Broad St., Colmar, PA 18915 and we also have offices located in Newtown.
The articles on this blog are for informative purposes only and are no substitute for legal advice or an attorney-client relationship. If you are seeking legal advice, please contact our law firm directly.