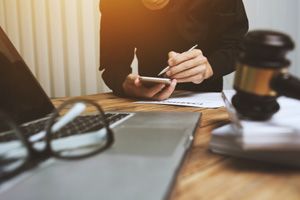 Suffering an injury leads to many questions. How will I pay my medical bills? Will my insurance cover my injuries? Do I have any legal recourse against the person or entity that caused my injury? Fortunately, an experienced personal injury lawyer can help answer all of these questions and many more.
With over 65 years of experience with personal injury cases, the law firm of Rubin, Glickman, Steinberg and Gifford is perfectly suited to answer your questions regarding your personal injury. They have the knowledge and the resources to make sure you are compensated for your injuries and can focus on your recovery while holding the at-fault party accountable.
5 Questions to Ask Your Potential Personal Injury Lawyer
Like most states, Pennsylvania has its fair share of injuries. Data from the Pennsylvania Department of Health found that there were over 132,868 hospitalizations for injuries in 2020 alone. Because they can take place at any time, it is vital to be prepared if you face an injury and require a personal injury lawyer to protect your interests.
1. Can You Handle My Case?
One of the first questions you should ask your potential personal injury lawyer is do they have the bandwidth to handle your case. Naturally, you would want a lawyer that is eager to handle your case, but the reality is that some lawyers are busier than others, especially if your potential lawyer has their own firm and handles many different areas of the law. An experienced attorney or firm knows their limits, and will be honest with you as to whether or not they have the resources and time to properly handle your case.
2. What Are Your Fees?
Most personal injury lawyers represent the injured party, known as the "plaintiff" in a personal injury case. As such, plaintiff's lawyers or firms usually work on a contingency basis, meaning that you pay no money up front and their fees are taken out of any potential settlement. In the event that your lawyer works on an hourly rate, they will let you know what that rate is in the initial stages of your meetings. There is potential for rates to fluctuate as the case progresses, but good communication between you and your lawyer will facilitate the negotiation of those details.
3. Do You Focus Your Practice On Personal Injury?
Personal injury is a highly-saturated area of the legal market. This has both positives and negatives. One of the positives is that there are many lawyers out there who focus their practice on personal injury cases, and thus bring a great deal of knowledge and experience to bear on your case. The negative aspect is that, being such a competitive area of the law and marketplace, there are a great deal of potential cases going to a number of different firms and lawyers. The bottom line is that if you want your case to have the best possible outcome, an experienced personal injury lawyer is your best bet.
4. How Long Will Resolution Take?
Here is another open-ended question. How long it takes your case to resolve is highly dependent on the facts involved. Moreover, any case is very fluid, meaning things can change quickly. At the same time, an experienced lawyer knows the ins and outs of a personal injury case and can provide you with a potential roadmap in the early stages. They can also provide you with potential breakdowns of every scenario that will be involved with your case.
5. How Involved Will I Have to Be?
While this question may seem obvious, your level of involvement is also highly dependent on the facts of your case. But it is also a matter of how involved you want to be. You will obviously need to provide your lawyer with any evidence, paperwork, documents, and other tangible things relating to your case. You will also need to maintain communication with your counsel and be available as your case progresses so that your lawyer can effectively represent you.
Work With Skilled Pennsylvania Personal Injury Attorneys
An injury can throw your entire life into disarray, with medical bills, continuing treatment, property damage, and ultimately, legal action. That is why finding the right attorney is indispensable to your case. Our team of experienced, skillful personal injury attorneys have served our clients' needs in Montgomery and Bucks County for over 65 years. Contact Rubin, Glickman, Steinberg and Gifford today at (215) 822-7575 or fill out our contact form to schedule a free consultation.