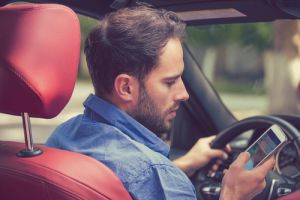 Public awareness has grown considerably in regards to driving while intoxicated and driving under the influence, but few are aware of the full extent of dangers surrounding distracted driving accidents. Distracted driving in Pennsylvania has skyrocketed in recent years, in large part because of our modern-day lifestyles. Most hard-working adults are continuously tired, busy, and often distracted from the task of driving due to technology. Experts agree that this habitual distraction behind the wheel causes thousands of motor vehicle accidents around the country each year.
What Causes Distracted Driving in Montgomery County, PA?
Researchers from the Centers for Disease Control and Prevention (CDC) and the National Highway Traffic Safety Administration (NHTSA) have pinpointed the most common causes of distracted driving. The list includes actions like eating, reaching for objects, adjusting the air conditioner, changing radio stations, and checking a GPS device for directions. Both agencies note that attempting to send text messages while driving is one of the biggest concerns. Experts studying this trend found that reading a message takes about five seconds, and a car going 55 miles per hour can travel the entire length of a football field in that short time. If a driver isn't looking at the road for that long, then they are putting themselves at serious risk of causing a motor vehicle accident.
Why Colmar Distracted Driving Accident Victims Need an Attorney
It's important for car crash victims to understand that they could be entitled to compensation when they've been injured by a distracted driver. Every driver has a duty to remain vigilant and aware of other drivers on the road in Pennsylvania, so distracted driving may constitute negligence. The Montgomery County personal injury attorneys at Rubin, Glickman, Steinberg & Gifford P.C. are prepared to take on your case. We help distracted driving accident victims in Colmar, Norristown, Hatfield, Chalfont, Holland, Quakertown, and throughout Southeastern Pennsylvania. Contact our law firm today for more information at 215-822-7575.
The articles on this blog are for informative purposes only and are no substitute for legal advice or an attorney-client relationship. If you are seeking legal advice, please contact our law firm directly.