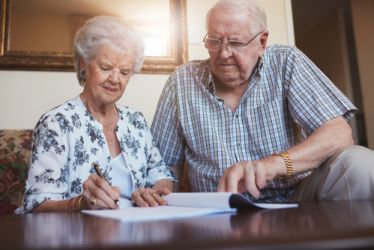 What is a living will and when will I need one? It's a question we're often asked, here at Rubin, Glickman, Steinberg & Gifford P.C. A living will is a legally binding document that outlines your personal wishes for end-of-life medical treatment. Simply put, a living will helps ensure that your wishes are upheld if you are unable to speak for yourself. Below, we answer the most commonly asked questions about living wills, including how a skilled estate planning attorney can help you get started on one. 
Is There a Difference Between a Will and a Living Will?
Yes, there is. A will is a legal document that outlines how your property will be distributed and who will be the caretakers of any minor children after a person's death. A will becomes effective after someone passes away, whereas a living will is effective immediately after creation. While a will can outline a person's wishes to be buried or cremated, a living will's sole purpose is to outline the kind of medical treatment you want (or don't want) if you should become incapacitated. 
I'm Young and Healthy. Do I Need a Living Will?
The answer: yes. It's actually recommended that anyone over the age of 18 obtain a living will in the event of a tragic accident that leaves you impaired. There is no set time limit or proper age to get a living will; the creation of one can designate a certain person to make medical decisions on your behalf. This is important because sometimes, depending on the state you live in, the court will make the decision for you.
What Happens if I Don't Have a Living Will?
If you don't have a living will, Pennsylvania's Act 169 creates a hierarchy of those who can make medical decisions for you. Your health care representative is allowed to make medical decisions on your behalf if you are determined to be unable to do so. Typically speaking, the hierarchy list is as follows:

A spouse
An adult child
Parent
An adult sibling
An adult grandchild
A close friend
All of these individuals are afforded the ability to direct the continuation or withholding of medical care, including treatment that is sustaining the individual's life.
Contact A Newtown Estate Planning Attorney For A Consultation About Wills In Pennsylvania
You deserve to have peace of mind about whether your loved ones will be taken care of after you are gone. The best way to plan for your future, and the future of your close family members or other loved ones, is to speak with an estate planning lawyer about your specific circumstances and financial situation. The experienced Pennsylvania estate planning attorneys at Rubin, Glickman, Steinberg & Gifford, P.C. assist clients with wills, trusts, and other estate planning documents. We represent clients in Lansdale, Hatfield, Blue Bell, North Wales and throughout Southeastern Pennsylvania. Call us anytime at 215-822-7575 or fill out our online contact form to schedule a confidential consultation. Our main office is located at 2605 N. Broad St., Colmar, PA 18915 (near Lansdale) and we also have an office located in Newtown, PA.
The articles on this blog are for informative purposes only and are no substitute for legal advice or an attorney-client relationship. If you are seeking legal advice, please contact our law firm directly.