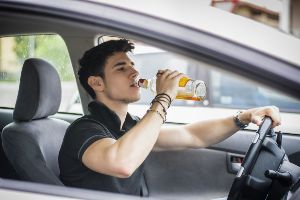 Earning a college degree is an important life step that is, in many ways, a central segment of the "American Dream," which begins with going to college and culminates in getting a job, buying a house, and raising a family. College prepares you, both socially and intellectually, for your career and adult life. The advantages of a college education include career opportunities like better paying and higher skilled jobs as well as overall happiness and stability. However, this can all be taken away in the blink of an eye.
When it comes to a conviction for driving under the influence, schools and colleges are often extremely strict. You may not think a Pennsylvania DUI would have a massive impact on your life besides your criminal record, but for college students, driving under the influence could derail your education. But could you actually be expelled from school for a DUI? Here's what you need to know.
The Consequences College Students May Face after a Pennsylvania DUI
If you're attending a Pennsylvania college, you've likely invested a lot of time and money toward your education. The last thing you want is for a single mistake to disrupt what you've worked so hard to attain. Yet, a DUI conviction won't be taken lightly by university police and administrators. Whether you receive a warning, penalty, probation, or expulsion depends on many factors, including the circumstances of your case and the rules at particular school you're attending.
If you're facing a DUI conviction and are curious how your school will handle your case, first check your student handbook. This directory will likely spell out the disciplinary procedures, penalties, and prohibited conduct at your school. In most cases, penalties are determined by a panel. Fortunately, this panel has a lot more flexibility than a judge. Depending on the severity of your conduct, you'll most likely face the following common penalties:
Warning

: If you're lucky, you'll get away with just a warning. This is a formal acknowledgment of the incident and a statement that another misstep will result in a harsher punishment.

Probation

: If given probation, you'll likely be permitted to attend classes but will be subject to restrictions. These restraints may include attending mandatory alcohol counseling and no longer being able to drive to school.

Suspension

: When you're suspended, you are excluded from campus, classes, and college events. This may be until your case is completed and you've served your punishment, or it may be for a set period of time decided in advance by the panel.

Expulsion

: In the harshest case, you may be permanently removed from campus. In the context of a DUI, multiple offenses, prior misconduct, or a single offense that causes a severe injury may be enough to warrant this punishment.
Fortunately, there may be hope that you can dodge any statutory and school-related penalties following an arrest for DUI. For assistance, contact a knowledgeable Montgomery County DUI defense lawyer as soon as possible for help protecting your rights.
Getting Home after a Night Out at College
The odds that students at school will drive under the influence may be higher than other groups of people considering that students are more prone to peer pressure, still developing, and provided with an abundance of alcohol. Bearing that in mind, if you do find yourself out drinking, you may be wondering how you should proceed if you can't drive home. Finding another way back may save you from a DUI. You have several options for getting home safely after a party or night at the club:
Uber or Lyft

: A ride-sharing service is an excellent option for getting home. Even if it's expensive, it's worth the splurge.

Hail a cab

: if you're in a part of town without too many accessible Uber and Lyft vehicles, you may be able to call a cab. You can call a cab company to determine how much your trip will cost and tuck that much money in your back pocket.

Public transportation

: If no cars are available, you can always use public transportation such as buses or trains to get home.
If you're arrested for driving under the influence, you need a Pennsylvania DUI attorney immediately. Contact the specialists at Rubin, Glickman, Steinberg & Gifford today.
Contact an Experienced DUI Defense Lawyer in Montgomery County
If you're a student at a college in Pennsylvania or elsewhere who's been arrested for driving under the influence, it's vital that you get in touch with a knowledgeable DUI defense attorney as soon as possible. The skilled attorneys at Rubin, Glickman, Steinberg & Gifford are dedicated to safeguarding your reputation and helping you sidestep the consequences associated with a conviction. This includes legal penalties as well as school-related consequences you may be facing from your college. Our legal team will examine your case in detail and work to build you a strong defense.
For more than 65 years, our attorneys have served clients' legal needs in Montgomery County, Lehigh County, Bucks County, Chester County, Delaware County, and the surrounding areas. We've earned the respect of clients facing a diverse range of legal problems, and our lawyers are committed to protecting your rights. Call us at (215) 822-7575 or complete our online contact form today.