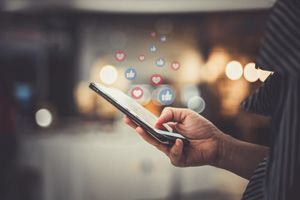 When faced with criminal charges, the outcome of your case is dependent on a variety of factors. Seemingly every aspect of your life will be placed under a microscope, including your online activity. Additionally, with the advent of social media, our world has become especially public and interconnected. Consequently, you should be very careful about what you post online because it very likely will be put in front of a jury.
If you find yourself up against a criminal charge, the team of highly skilled criminal defense attorneys at Rubin, Glickman, Steinberg, and Gifford P.C. can help educate you on the laws and regulations that are followed in Pennsylvania to ensure that you are not giving law enforcement evidence to use against you.
What Area of the Law Does Social Media Fall Under?
While relatively new, social media falls under the broad spectrum of "electronic communications." Electronic communications are governed by the Stored Communications Act (SCA). Established in 1986, long before the invention of social media, the SCA sets the conditions under which social media companies, acting as providers for your electronically stored information, may release the content of communications and "user information" to third parties, such as law enforcement.
However, even if your social media posts are provided to law enforcement or another party, they still have to prove that the posts are relevant. Furthermore, they also must demonstrate and verify whether the name on the account belongs to you, and must also show that the posts were authentically posted by you and were not pranks.
Going a step further, social media posts can be used in a criminal case to achieve the following:
Discover new evidence
Confirm alibis
Develop connections
Find suspects or witnesses
Find incriminating statements
Show what a suspect was doing prior to the crime being committed
Obviously, because law enforcement has such access to your social media, they also have ample opportunity to gather evidence against you.
Common Types of Social Media Evidence
Probably the most likely impact that social media can have on the outcome of your case is your information and posts being used as evidence against you. With that in mind, here are some of the more common types of social media evidence that we have encountered:
Facebook posts
Facebook or Instagram comments
Instagram stories or posts
Tweets on Twitter
Blog posts
Tumblr posts
Snapchat chats or stories
YouTube videos
TikTok videos
Again, being active on social media means that there are eyes on you at all times. With that in mind, make sure to keep posts to a minimum when facing criminal charges.
What Should You Do With Your Social Media During a Criminal Investigation?
If you are currently under a criminal investigation, take the following steps to safeguard your social media activity and protect your rights and future:
Go Dark on Social Media
Even if you make your accounts private, there are ways around those barriers. Not only can investigators search profiles of your friends with less secure privacy settings, but they can also obtain permission from social media platforms to give them your information. It is not uncommon for law enforcement and social media representatives to work together on criminal investigations.
Do Not Delete or Deactivate Your Account
Because your social media account contains important case-related information or important evidence, deleting your account is a bad idea. In fact, doing so while an investigation is ongoing could result in more legal trouble or even additional criminal charges.
Keep Your Friends Informed
Being so connected with friends on social media can have unforeseen consequences, such as them tagging you in locations, photos, and posts. Letting them know your situation—that there are a lot of extra eyes on you—could go a long way in keeping your social media clean.
An Experienced Pennsylvania Criminal Defense Attorney Can Help You
Whether or not you have compromising information on your social media accounts, our team of experienced criminal defense attorneys can guide you through the complexities of your case and protect your rights in the process. With over 65 years of experience, Rubin, Glickman, Steinberg and Gifford, P.C. has built a reputation for strongly advocating for clients throughout Montgomery and Bucks County, Pennsylvania. To schedule a free consultation, call (215) 822-7575 or fill out our contact form.