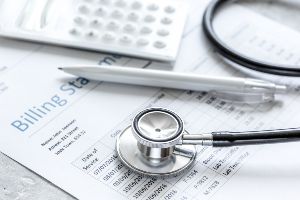 Without health insurance, you might worry about who will pay for your medical treatment in case of an accident. After settling a personal injury claim or winning your lawsuit, you may be entitled to compensation for your medical bills and other damages, but the process can take many months, and meanwhile, you have bills accumulating.
In many cases, people who have been in an accident wonder why the at-fault party and their insurance company aren't responsible for paying the medical bills. To put it simply, no matter how bad the outcome, the cost of your medical care is your responsibility. Despite the fact that your injury is clearly the fault of the person who caused it, the law does not compel them to pay the resulting medical bills as they happen. In this regard, it may be possible to pay all or a portion of your medical bills using one or more of the following methods.
Paying for Medical Bills for a Car Crash Out-of-Pocket 
It might not be the most ideal choice but paying out-of-pocket for medical care is one option you have after an accident. Generally, credit cards or cash are both acceptable methods of payment. Unfortunately, this can quickly cause overwhelming amounts of debt to accumulate, as you have likely incurred more bills than you can afford. 
When you're not at fault for an accident, you shouldn't be burdened by medical expenses. The person responsible for your injuries should be held accountable for their reckless actions. You should consult a personal injury attorney to avoid having to shoulder medical costs after an accident you didn't cause.  
Paying for Accident-related Medical Bills with No-Fault Auto Insurance
Pennsylvania follows a no-fault system, which means that if you're injured in an accident, your own personal auto insurance will be responsible for covering your medical bills and lost wages, no matter who is at fault.
Personal injury protection (PIP) claims are often made under no-fault insurance. It is important to understand that there may be a limit on how much your insurer will pay for medical bills, depending on your policy. To discover what rights you have under Pennsylvania's no-fault law, speak with an experienced injury lawyer right away. 
What is Medical Payment Coverage?
Medical payment coverage, or "med pay," is sometimes available in automobile and property insurance policies. Med pay covers the medical bills of anyone injured by an insured party, provided their policy covers them, which is generally equal to or less than $10,000. As soon as the med pay policy limits are exceeded, your bills will be your responsibility. 
Can I Use Medicaid to Cover Medical Bills After a Car Accident?
In contrast with Medicare, which covers individuals aged 65 or over, Medicaid is the medical insurance program for low-income residents. The state government funds Medicaid, meaning Medicaid recipients don't have to pay a monthly premium. A person who gets into an accident, can no longer afford their health insurance, and loses their job may be eligible for Pennsylvania's Medicaid program. 
If you are eligible, Medicaid will cover all of your future medical costs, as well as compensate you for some of your past medical expenses. A lien is placed on the amount Medicaid pays on your behalf. This is their way of recording the amount they covered and how much you owe if you are awarded compensation elsewhere. 
As soon as a settlement is negotiated or a verdict is rendered in a lawsuit, all liens must be cleared before you can receive any money. This is because, under the law, you cannot recover compensation twice for the same accident. In this case, the accident victim will receive the remaining amount after Medicaid is reimbursed, along with any other fees owed, such as lawyer fees. 
Negotiating Payment Arrangements with Healthcare Providers
Physicians who treat accident victims understand that many of their patients lack medical insurance coverage and are flexible about payment. In some cases, providers will treat the patient if the patient offers to pay the bills with the proceeds from their settlement or jury verdict. 
As part of this agreement, the medical provider will have the patient sign a legal document, known as a personal injury lien, which will then be forwarded to the patient's attorney. Liens are legally binding contracts between the patient and the provider that require the patient's lawyer to fund the provider's portion of the settlement or verdict proceeds before their client is paid. 
Contact a Southeastern Pennsylvania Injury Lawyer Today 
No matter your circumstances, when you are having difficulty arranging for medical treatment because of lack of insurance, you should contact an accident lawyer to find out how to obtain medical treatment and payment assistance in Pennsylvania. Having an accident is stressful, and there's no doubt you will have many worries—medical bills should not be one of them. Let the team of personal injury attorneys at Rubin, Glickman, Steinberg & Gifford investigate your claim and assist with future decision-making.
Find out more about your rights and what it takes to win your personal injury claim today by completing an online contact form or calling 215-822-7575 to consult a qualified injury lawyer.