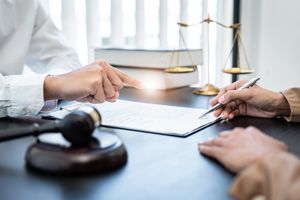 If you are going to appear in a courtroom as a plaintiff, defendant, witness, or member of the jury, you likely want to make a good impression in front of the judge. How should you dress? Are there rules you should follow? Would hiring a lawyer be helpful?
At Rubin, Glickman, Steinberg & Gifford, P.C., we are talented in criminal defense and personal injury law, so we know a few things about presenting ourselves well in the courtroom. If you are looking for more information about making a good impression in front of the judge, we are about to break down a few of our top tips.
How Should You Dress in the Courtroom?
When you are heading to court, it is essential that your clothing is neat and clean. In general, we recommend wearing dress pants or a knee-length skirt, as well as a button-down shirt. Sensible shoes may include loafers, flats, and other closed-toe dress shoes.
We strongly recommend ironing or steaming wrinkles out of your clothing, wearing deodorant, and styling your hair so it looks clean and is out of your face. If you would like, you might also wear a necktie, suit jacket or blazer, pocket square, or nice watch with your attire.
Learn Courtroom Rules for Good Impressions
Before arriving at the courthouse, you may do well to review the rules of the court you will be visiting. Many courtrooms will have specialized rules, but many standard rules of Pennsylvania courts include the following:
No cameras or recording devices
Addressing the court from a standing position
Do not use your phone
Do not interrupt others
If you want more information about court rules, you may be able to get in touch with a court clerk who is able to clarify and provide more information regarding best practices.
Should You Hire a Lawyer for Your Court Case?
If you are not a plaintiff or defendant, you likely will not need to hire a lawyer. However, we strongly suggest hiring a lawyer if you are a party being represented in the case at hand. Your lawyer may be able to help you in the following ways:
Legal talent
Negotiation tactics
Maximizing compensation
Building a strong case in your favor
Lowering fault
Decreasing consequences
Lowering conviction
Handling insurance companies and other legal representation
Collecting and analyzing evidence
Recommending next steps
Referring you to professionals
Providing additional resources that may be helpful
Reducing stress
If you are taking part in a legal case as a plaintiff or defending party, we strongly recommend avoiding representing yourself. Your lawyer is far more likely to accurately and favorably represent your case, and we encourage you to hire an attorney for your case.
Make a Great Impression With Rubin, Glickman, Steinberg & Gifford, P.C. Lawyers in Pennsylvania
If you want to make a good impression in the courtroom, we at Rubin, Glickman, Steinberg & Gifford, P.C. may be able to help. We have over 65 years of experience and practice award-winning criminal defense and personal injury law in Pennsylvania, so we have the tools you need for a successful case.
We dedicate ourselves to supporting our clients through each step of the legal process as well as maximizing their compensation or decreasing their consequences, depending on the case type. To ask any questions or discuss the details of your case, please call us at (215) 822-7575 or complete our contact form. We look forward to hearing from you and offering our support.