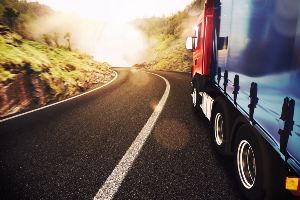 Objects carried in the back of a pick-up truck or hauled on a semi-truck have an incredible amount of force when they are not appropriately secured when traveling on interstates and highways. Properly securing this cargo is vital to prevent vehicle accidents, personal injury, and even death. 
According to a 2016 AAA Foundation study, more than 200,000 crashes are caused by road debris in the U.S. Nearly 37 percent of all deaths in road debris accidents resulted from the driver swerving to avoid hitting the object. While some of the debris is caused by shredded tire tread that comes from the vehicles, most accidents are caused by unsecured cargo.
What is Unsecured Cargo?
Unsecured cargo can include boxes, furniture, appliances, construction materials, tools, and in more severe cases, hazardous materials. Additionally, improperly loading cargo can make it unstable and risk flying off the truck and causing an accident. The same goes for tow trailers that are not adequately secured along with safety connection features to prevent accidents, such as lights and safety chains. When tow trailers become unhinged, they become a considerable risk to other drivers.   
When driving at high speeds, particularly on the interstate, tow trailers have an increased risk of becoming detached or cargo falling onto the roadway. It is then the responsibility of the driver to ensure the safety of those on the road.
The Responsibility of Drivers to Secure Cargo
Following the rules of the road, traffic rules, properly changing lanes, and not being distracted when driving are just some of the responsibilities a driver has when operating a motor vehicle. Commercial drivers have these responsibilities, plus there are federal regulations that prohibit commercial drivers from operating motor vehicles unless their cargo is secured. In addition, non-commercial drivers can receive fines for unsecured cargo ranging from $10 to $5,000 and even jail time in some states.
Drivers must ensure their cargo is tied down securely for the safety of others and themselves. Even if a third party loaded and secured the cargo, drivers must conduct their own safety checks. 
The following are a few examples of safety checks that can potentially save lives:
Ensure Tie-Downs are Fastened
Do a walk-around of the vehicle and double-check that tie-downs are secure. Tying down cargo loads with ropes, netting, straps, or even bungee cords can prevent accidents from occurring.
Cover Entire Load
Even if cargo is tied down with appropriate straps, additional safety measures can be added by covering the entire load with a sturdy tarp or netting. This way, if anything comes loose during traveling, the tarp can prevent objects from flying off the truck and into the roadway.
Avoid Cargo Spillage
If you're moving to another home and you're on the last stretch of moving your belongings, it can be tempting to overload your vehicle. However, overloading a vehicle can loosen objects, cause cargo to spill, and can even wear down the tethers that are restraining the load. 
Double-checking the security of all the ties, straps, and tarps will help prevent the shifting cargo that causes accidents on the roadway. 
What To Do If You Are Involved in a Crash in Pennsylvania Due To Unsecured Truck Cargo
Determining who is liable in an accident involving cargo spillage can be complicated. Even when an accident is caused by a truck driver of a large trucking company, insurance companies will do what they can to avoid paying claims. Get proper legal representation right, away to begin your claim and increase your chances of receiving compensation for your losses. 
Our experienced legal team offers free case evaluations and legal advice. To help you receive the compensation you deserve from your accident, here are some of what we do:
Hire investigators and crash experts

Interview witnesses

Deal with confusing paperwork

File timely claims

Determine who is responsible for your injuries

Deal with the company's attorneys

Fight to get you the maximum compensation allowed by law

Never get paid unless we win your rightful money
Accidents are already hard to deal with on your own. Let our team of qualified car accident attorneys take care of the legal matters. To ease your burden, we will never charge you a cent until we win your case. 
Contact Our Car Accident Attorneys for More Information
If you have been in a car accident because of debris in the roadway, the attorneys at Rubin, Glickman, Steinberg & Gifford are prepared with the resources to effectively handle your Pennsylvania car accident case. To schedule a free consultation with our team, contact us at  
(215) 822-7575 or complete our contact form. We are available for you on the weekends and have a caring and compassionate team ready to take your call.