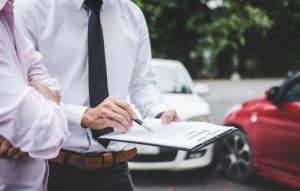 When a motor vehicle accident in a work vehicle happens, it's likely both the driver and passenger will be injured. It's important to note that passengers in a work vehicle have options to recover compensation after the collision. Here are some things to keep in mind.
Seek Medical Attention
It is important to seek medical attention after any accident, and to continue medical care for the injuries sustained in the accident. If there are medical records describing the extent of the injury, they can be extremely helpful in linking the injury to the accident.
Gather Evidence
After an accident, it's important to gather evidence that holds the at-fault party liable for any damages. It's wise to collect the following pieces of evidence:
Photographs of any injuries and damaged property
Police report filed at the time of the accident
If there were any witnesses who can describe the accident or what happened leading up to it, it's a good idea to speak with them.
Workers' Compensation
Usually when there is a passenger in a work vehicle, chances are they both work for the same company. PA Workers' Compensation Law is applied to all work-related vehicle accidents for employees of the company.
Consult With a Personal Injury Lawyer
After an accident, it may be in the best interest of the injured individual to contact an experienced personal injury attorney who can help them file a personal injury claim.
Contact a Colmar Personal Injury Lawyer to Discuss Your Motor Vehicle Accident Case in Pennsylvania
Did you or a loved one sustain serious injuries due to a motor vehicle accident in Pennsylvania while a passenger in a work vehicle? Don't let the medical bills pile up. You need an aggressive personal injury attorney on your side, fighting to get you the compensation you need, want, and deserve. The skilled attorneys at Rubin, Glickman, Steinberg and Gifford, P.C. represent clients in Newtown, Doylestown, Lansdale, King of Prussia, Norristown and throughout Southeastern Pennsylvania. Call (215) 822-7575 or fill out our online contact form to schedule a consultation about your case. We have an office conveniently located at 2605 N Broad St, Colmar, PA 18915, as well as an office in Newtown, PA.
The articles on this blog are for informative purposes only and are no substitute for legal advice or an attorney-client relationship. If you are seeking legal advice, please contact our law firm directly.