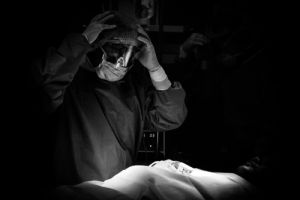 If you or a loved one were injured due to medical malpractice while under care at a hospital, under certain circumstances you may be able to hold the hospital legally responsible for negligence.
The Hospital's Liability for Employees' Negligence
Like with any other employer, a hospital can be held liable for the negligence of its employees. Employers can be held responsible for the negligent acts and omissions of employees under a legal theory of vicarious liability called respondeat superior (which roughly translates to "let the master answer").
Typically, employees of hospitals include nurses, therapists, orderlies, and medical technicians. If a hospital employee injures a patient in the course and scope of his or her work, then the hospital can be held legally responsible for the patient's injuries.
The proof needed to establish a hospital's employer liability will depend on the circumstances of the patient's injury. For example, if the employee injured the patient in the course of exercising the employee's professional skill and/or judgment, then the case will fall under medical malpractice. The patient will need to prove that the employee's conduct failed to adhere to the applicable standard of care — usually defined as the acts that another reasonable healthcare professional of similar training and experience would have undertaken in similar circumstances — and that the patient was injured and suffered damages as a direct and proximate result. Medical malpractice cases usually require expert testimony to establish liability. Conversely, if a patient is injured by non-medical negligence (for example, a food service worker at the hospital negligently serves contaminated food to a patient), then the ordinary standards of negligence apply.
Doctors and Hospitals
Of course, many instances of medical malpractice committed in hospitals are committed by doctors. However, many doctors who treat patients in the hospital are not employees of the hospital; instead, they are classified as independent contractors. A doctor may qualify as an employee of the hospital if, for example, the hospital controls the doctor's working hours or sets the rates that the doctor charges the patient. Even if a doctor does not qualify as a hospital employee, a court in a medical malpractice case may consider the doctor to be an employee for purposes of the case if the patient was led to believe the doctor was the hospital's employee.
Proving the Hospital's Own Negligence for Doctors' Errors
Even if a doctor is not an employee of the hospital but is instead only an independent contractor, it may be possible to hold the hospital liable for its own negligence when the doctor commits medical malpractice. It may be possible to hold the hospital responsible for negligence in giving staff privileges to an incompetent or dangerous doctor. Typically, in order to hold a hospital responsible for negligently credentialing a dangerous or incompetent doctor, an injured patient will have to show that the hospital knew the doctor was dangerous or incompetent (such as if the doctor had privileges revoked at another hospital due to dangerous behavior, or if the doctor engaged in dangerous behavior at the present hospital), or that the hospital should have known of the risk the doctor posed if it had reasonable screening measures in place.
Contact A Medical Malpractice Attorney for a Consultation About Your Case in Pennsylvania
Were you or a loved one injured due to medical malpractice in Pennsylvania? Then you need to talk to an experienced medical malpractice lawyer as soon as possible for guidance on how to proceed. The Colmar medical malpractice attorneys at Rubin, Glickman, Steinberg & Gifford, P.C. are prepared to assist you with your legal claim. We represent victims of negligent surgeons, doctors, nurses, and pharmacists throughout Southeastern Pennsylvania, including Lansdale, King of Prussia, Norristown, and Newtown. Call us today at (215) 822-7575 or fill out our online contact form to schedule a consultation. Our main office is located at 2605 N. Broad St., Colmar, PA 18915, and we also have an office in Newtown.
The articles on this blog are for informative purposes only and are no substitute for legal advice or an attorney-client relationship. If you are seeking legal advice, please contact our law firm directly.