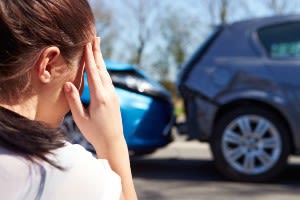 Car accidents often leave you in shock. Once that fades, you can feel a variety of different emotions—all of which are natural. The majority of car accident victims are left feeling caught off guard and unsure of what to do next. With this perspective, it is understandable to learn why you might experience strong emotions following a car accident.
Despite this, shock is sometimes an indicator of something else. Rather than something psychologically related, you could be suffering from a serious medical condition. Read on to learn more about what shock looks and feels like after a car accident below. 
Understanding the Difference Between Psychological and Physical Shock 
Psychological shock is a common experience. After a distressing experience—like a car accident—your adrenaline can spike, making you feel anxious, fearful, or even in denial. Confusion and worry set in as your brain tries to make sense of what happened.
The impact of physical shock is far more dangerous after a car accident. Hypovolemic shock is the most common type of shock, followed by neurotic, cardiogenic, septic, and anaphylactic shock. 
Medically speaking, shock is caused by a drop in blood flow, which means organs are not receiving enough oxygen or blood. Individuals in an accident are at risk of suffering shock if there is a presence of:
Blunt force or physical trauma

Catastrophic injuries

Excessive blood loss
If shock is not treated properly, it can lead to organ damage, and in extreme cases, the victim may even die. 
Early Indicators of Shock after a Car Accident 
After a crash, emergency responders should check for signs of shock. Nevertheless, it is also important that you know the signs. While shock can manifest differently according to the individual, some common signs and symptoms to watch for after a car accident include the following: 
When an accident victim is in physical shock, they may experience: 
Vomiting or nausea

Rapid heartbeat

Fainting

Dizziness

Enlarged pupils

Heavy breathing

Pale or yellow complexion 

Clammy skin

Fatigue

Weakness

Anxiety or agitation 
While psychological shock may be accompanied by:
Nightmares and terrors 

Memory loss, confusion, or forgetfulness 

Depressive moods, isolation, and mood swings 

Irritability or anger

Stress and panic

Absence of interest

Trouble sleeping 

Dietary changes 

Headaches and migraines 

Muscle pain and tension 
As such, shock both physically and psychologically must not be minimized. If either situation occurs, medical intervention is essential to reduce the risk of further harm or permanent damage. An injury sustained in a traffic accident should be checked by a physician as soon as possible. Taking care of your health should be your first step after a car crash. 
Seek Legal Counsel from a Pennsylvania Car Accident Lawyer 
In the time following your medical treatment, you should speak with a Pennsylvania car accident lawyer at Rubin, Glickman, Steinberg & Gifford for legal guidance. If a negligent driver or another party caused the accident, you are entitled to seek compensation from them or their insurer. Having to bear the financial burden of another's negligence is unacceptable.
If you have questions, you can call Rubin, Glickman, Steinberg & Gifford at 215-822-7575 or schedule a consultation by using our contact form. For over 65 years, our Pennsylvania personal injury attorneys have provided exceptional legal services to those residing in the counties of Montgomery, Bucks, Lehigh, Chester, Delaware, and surrounding areas. Ensuring you receive financial compensation for your physical, financial, and emotional injuries is important to us, and we will do everything possible to get you the recovery you deserve.