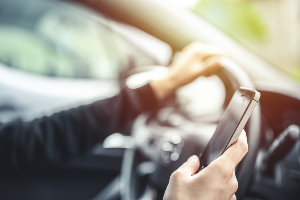 April is distracted driving awareness month, and it's the perfect time to make sure we each play our part in road safety and ensure our actions aren't a distraction. 2018 yielded 2,800 deaths and nearly 400,000 injuries due to distracted driving across the United States. More than 20% of those killed were bicyclists, pedestrians, and others outside of a vehicle.
As such, distracted driving always results in avoidable consequences. In Pennsylvania, distracted driving plagues the streets, and Montgomery county compiled the highest number of distracted driving citations between 2015 and 2019. Staying focused on the road is essential to distraction-free driving. Also, understanding Pennsylvania driving laws and knowing what is permitted versus what is not can help you better prepare for the road ahead.
Distracted Driving: Defined
The concept of a distraction refers to anything that keeps a driver from concentrating solely on the task at hand. There are three main ways this can play out: the driver's gaze is not fixed on the road (a visual distraction); their hands are removed from the wheel (mechanical distraction); or their brain is not focused optimally on driving (a cognitive distraction). Distractions of this nature can result from a variety of differing activities, including:
Texting
Talking on the phone
Eating or drinking
Putting on makeup
Searching or reaching around for an item
Adjusting music or other controls
Using a GPS
Conversing with passengers
Sightseeing
Tending to kids or pets
Spacing out
The use of cell phones is not the only distraction to drivers; many other activities, which are technically legal, have caused accidents. Therefore, paying extra attention and exercising great caution while driving is crucial.
What Is and Is Not Permitted Under Pennsylvania Law?
All drivers are prohibited by Pennsylvania law from texting while driving. In fact, the Pennsylvania Department of Transportation provides that the ban applies to any device capable of instant messaging, emailing, texting, or browsing the Internet. Mobile phones, computers, and smartphones are all part of this category.
As of now, however, Pennsylvania law does not outlaw driving while talking on the phone. In this regard, Pennsylvania differs from other states because several others have banned handheld and hands-free devices while driving. Still, cell phone use by a distracted driver can be utilized as evidence in a lawsuit.
Put It Down; It Can Wait
When it comes to driving, multitasking is not worth a life. Driving requires full attention from the time you leave point A to the time you arrive at point B. No matter what kind of motor vehicle the driver is behind the wheel of, a serious accident is more likely to occur if the driver is distracted. The state of distraction isn't just about a lack of focus; it's about becoming more focused on something else. As a result, many drivers tend to speed, swerve, and have trouble stopping on time.
Property damage, fatalities, and catastrophic injuries are expected outcomes of distracted driving accidents. In Pennsylvania, accident victims have the right to receive compensation from both the responsible party and the injured driver's insurance provider. Unfortunately, it isn't always the case that insurance companies will pay accident victims fairly. Injury victims have the best chance of winning a settlement from the at-fault driver and their insurance carrier when they engage an experienced Pennsylvania injury attorney and pursue a lawsuit.
Call Rubin, Glickman, Steinberg, & Gifford for a Free Consultation
The most disturbing thing about distracted driving accidents is how easily avoidable they are. Many drivers believe that they are adept at driving with so many distractions, but the statistics show otherwise. By being aware of the dangers of driving distracted, you give yourself a better chance for a safe drive.
Unfortunately, you cannot control the actions of others. If you are injured in a distracted driving accident caused by someone else's negligence, you may be entitled to compensation for your injuries. Learn more about your case with the legal team at Rubin, Glickman, Steinberg & Gifford by completing our confidential online contact form or calling (215) 822-7575 today.