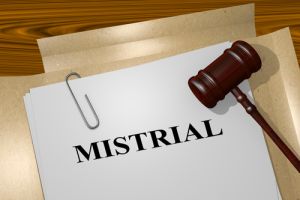 Depending on which party you are in a criminal prosecution, a mistrial can be either a huge inconvenience or advantage if viewed from a legal strategic standpoint. Defined simply, a mistrial is a trial that the presiding judge brings to an end before a determination on the merits of the case is reached. This can occur if there was a procedural error or some sort of serious misconduct that happened during the proceedings or because the jury was unable to reach a verdict. If a mistrial occurs, there are a few avenues each party of the criminal prosecution can take to remedy the mistrial. But first, it is important to understand why and how a mistrial is declared in a criminal case.
Reasons A Mistrial Is Declared
Most mistrials that occur today usually happen due to an issue with one or more of the jurors assigned to the case. This is frequently called juror misconduct. A mistrial can be declared on the basis of juror misconduct if one or more jurors disregard the court's instructions to steer clear of any information outside of the evidence presented at trial, whether it be a news story on the specific case or conducting research on the crimes charged. A mistrial is declared when this form of juror misconduct occurs. This is possibly because the juror read or saw a news story about the case or conducted additional research on the crimes charged. The law and common sense contemplates that the defendant may be prejudiced since the juror may base his or her decision as to guilt on this outside information. Another type of juror misconduct that results in a mistrial occurs when one or more jurors speak to others about the case on which they are serving prior to rendering a verdict on that case. A mistrial often results when this occurs because, again, the defendant may be prejudiced. Still, another form of juror misconduct that usually results in a mistrial occurs when a juror lies during the voir dire process about having a specific prejudice against certain types of people, is picked to serve as a juror on that case, and then later during the trial the juror's prejudice is discovered. This would make it impossible for him or her to make an impartial decision in the case.
While juror misconduct results in mistrials, still other reasons exist for declaring a mistrial. For example, if one of the attorneys dies during the trial, then a mistrial is often declared to allow the deceased attorney's replacement to prepare for the trial. Moreover, a mistrial could occur if it is revealed during the trial that an attorney did not provide the other side with certain items in discovery or an attorney makes an inflammatory remark about an aspect of the case in front of the jury. A mistrial trial could also occur if one or more jurors falls ill, dies, or must be excused during the trial for some reason causing an inadequate number of jurors to render a valid verdict on the case. This is often avoided by most courts by implementing the practice of picking alternate jurors during jury selection. Still, as stated in the definition provided about, a mistrial could occur if the jurors are deadlocked and cannot render a unanimous verdict as to guilt or innocence in a specific case.
Contact an Experienced Newtown Criminal Defense Lawyer About Your Criminal Charges in Pennsylvania
Were you arrested or charged with a crime such as assault, murder or theft in Pennsylvania? The consequences of a conviction could be severe, leaving you with a permanent criminal record and possibly even sending you to jail. That is why you need to speak with a qualified criminal defense attorney as soon as possible about your case. The attorneys at  Rubin, Glickman, Steinberg, and Gifford have successfully represented clients charged with a crime in Newtown, Doylestown, Lansdale, King of Prussia, Norristown and throughout PA. Call 215-822-7575 or fill out the online contact form to schedule a consultation with a member of our legal team. We have an office conveniently located at 2605 N. Broad St. Colmar, PA 18915 as well as an office located in Newtown, PA. 
The articles on this blog are for informative purposes only and are no substitute for legal advice or an attorney-client relationship. If you are seeking legal advice, please contact our law firm directly.