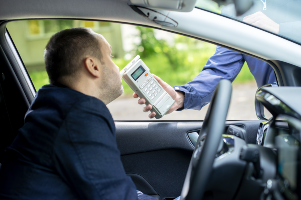 While arrests are made every day for driving under the influence (DUI) in Pennsylvania, law enforcement must follow strict rules and protocols in every DUI investigation. In short, if you're arrested for a drunk driving offense and police break the two-hour rule, that violation could lead to a dismissal of the charges against you. The experienced DUI defense lawyers at Rubin, Glickman, Steinberg & Gifford explain everything you need to know about the two-hour rule related to DUI cases in Pennsylvania.
What Is the Two-Hour Rule in Pennsylvania DUI Cases?
In Pennsylvania, police officers are required to administer tests to measure a driver's blood alcohol content (BAC) when they're suspected of driving under the influence within two hours of driving. If alcohol test results are obtained in breach of the two-hour rule, the prosecution cannot admit them as evidence against you.
This rule is cited under Pennsylvania Motor Vehicle Code Title 75 § 3802, which states that:
"An individual may not drive, operate or be in actual physical control of the movement of a vehicle after imbibing a sufficient amount of alcohol … within two hours after the individual has driven…"
The Commonwealth of Pennsylvania created this rule to guarantee both the integrity of DUI investigations and the credibility of alcohol testing. According to the rule, any BAC test results obtained by law enforcement outside this two-hour window after driving will be considered inadmissible as evidence.
Are There Exceptions to the DUI Two-Hour Rule in Pennsylvania?
Pennsylvania does allow exceptions to the DUI two-hour rule in limited circumstances. These exceptions are provided under Section 3802(g) of Pennsylvania's drunk driving statute, stating that the court may choose to admit the evidence if the prosecution can demonstrate that:
Law enforcement could not have reasonably obtained the chemical test sample within two hours, and
The individual accused of drunk driving did consume alcohol or a controlled substance in the period between driving and providing a chemical test sample.
It's important to note that the two-hour rule only pertains to alcohol DUIs and not drug-related DUIs. If the prosecution presents this exception in your DUI case, your criminal defense lawyer can help you respond appropriately and assertively.
There should be very few reasons for law enforcement not to administer a chemical test promptly. Shortages in law enforcement personnel and logistical challenges should not be regarded as a legitimate excuse by the court.
How Can an Experienced Pennsylvania DUI Defense Lawyer Help?
A seasoned DUI lawyer can assess your case and discover whether a violation of the two-hour rule occurred. The burden lies with you and your defense lawyer to carry out the investigation and respond accordingly if you suspect that law enforcement violated the two-hour rule during your arrest. Suppose you find evidence that a violation of this law occurred. In that case, your criminal defense attorney may file a motion with the court on your behalf to request that the judge exclude the evidence from admission at trial.
It is up to the prosecution to prove each element of your DUI charge beyond a reasonable doubt. When you partner with a criminal defense attorney, they ensure that the state presents evidence of every legal requirement to warrant a criminal indictment. If the state fails to introduce adequate evidence, then you should be acquitted of the DUI charge.
Consult a Seasoned DUI Defense Attorney in Montgomery County for Free Today
A DUI charge on your criminal record can result in a wide range of challenges for your future and freedom. At Rubin, Glickman, Steinberg & Gifford, our DUI attorneys in Montgomery County, PA, provide clients the advantage of our knowledge and expertise, which may be the most critical factors to the result of your Pennsylvania DUI case. Our attorneys include former prosecutors with a thorough understanding of all local courts in Montgomery County, Bucks County, Chester County, Delaware County, and Lehigh County.
Our award-winning firm has provided clients in Southeastern Pennsylvania with trusted legal services for over 65 years, earning various recognitions from Super Lawyers, the 2021 Edition of U.S. News-Best Lawyers "Best Law Firms," and more. After a DUI arrest in Pennsylvania, contact our lawyers to learn how we can help. Schedule your free consultation by calling 215-822-7575 or completing our contact form today.