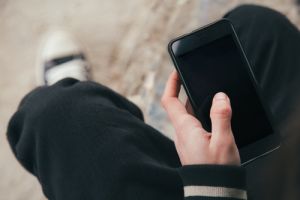 If your teen is like most, then they're probably spending a lot of time on their phones and on social media. As a result of ever-advancing technology, smartphones have made our lives infinitely easier. Unfortunately, this also means committing crimes have gotten easier, too.
While the term sexting was first introduced back in 2004, it wasn't until 2012 that the word was officially adopted by Merriam Webster Dictionary. So, what happened in that eight year span to cause the term to get its own recognition? We discuss the history of sexting, along with what it entails, the criminal penalties that are associated with it and what you should do, as a parent, if your child is charged with it in Pennsylvania.
What is Sexting?
Sexting, also commonly known as "sex texting," is the transmission of sexually explicit images by text or through the internet. These images could contain sexually suggestive images or nude photographs of oneself or of someone else. Sexting may include:
Sending a nude or nearly nude picture to someone
Sending a text message that refers to sexual acts and/or proposed sexual acts
Videos showing simulated sex, sex acts or nudity
While the reasons for doing so may vary, teenagers may look at sexting innocently and as an opportunity to flirt, fit in or gain popularity amongst their peers. While these reasons may seem innocent enough, sexting is a crime that, if indulged in, comes with harsh penalties and a blemish on your child's future.
In Pennsylvania, state law prohibits individuals from transmitting sexually explicit images if they are under 18 years old. As such, minors cannot knowingly disseminate, distribute, publish or transmit electronic communication that contains sexually explicit images of themselves. Furthermore, Pennsylvania law prohibits teens from knowingly possessing or viewing such images of minors who are at least 12-years old of age. These acts were criminalized by the state of Pennsylvania back in 2012.
Below, we discuss the penalties for sexting in Pennsylvania.
What Are the Penalties for Sexting in Pennsylvania?
If your teen published messages that contained sexually explicit images of other minors, they may be charged with a third-degree misdemeanor. The penalties for a third-degree misdemeanor in Pennsylvania may include a monetary fine exceeding no more than $5,000 or up to 90 days in jail, or both. While third-degree misdemeanors often carry the lightest punishments, that doesn't mean they should be taken lightly.
Second-degree misdemeanors, on the other hand, can also result in a monetary fine of up to $5,000 but also can carry a jail sentence of up to two years. This is the kind of charge your teen may be facing if he or she captures and/or sends sexually explicit images of another minor without his or her consent or with the intent to bully or harass another person. Your child may also be required to participate in an education program in an effort to curb this behavior in the future.
It's important to note that any image taken or distributed for commercial use or other sexual images depicting intercourse, penetration or any other hardcore acts is not applicable under Pennsylvania's teen sexting law.
What Can I Expect if My Child is Charged With Sexting?
If your teen is charged with one of these summary offenses, they will meet with a juvenile probation officer to find out what the next steps will be. Your teen has a right to have an attorney present at this meeting and parents are also allowed to attend.
At these meetings, the next steps to take will be determined. Many juvenile sexting cases will be handled primarily in juvenile court as opposed to an adult court. If your child is convicted of a summary offense as a result of sharing explicit images of themselves or possessing images of other teens, they may face up to 90 days in jail. In some cases, your teen may be required to attend a formal diversionary program. An experienced attorney will be able to guide you and your child through this complex process.
Can Sexting be Expunged from My Child's Record?
Even though a summary offense may sound like it's less severe than a federal offense, it's still a crime that must be taken seriously. A summary offense in Pennsylvania are among the most common types of minor offenses.
Teens may also be sent to a diversionary program to learn about the consequences of their actions. Upon successful completion of these diversionary programs, your teen's charges will be expunged from their record.
Expungements offer those convicted of crimes a fresh start. A criminal record may make it difficult for teens to get into college, secure employment or their own apartment later on in life. Don't let your child's mistake deter them from having a successful future. The attorneys at Rubin, Glickman, Steinberg & Gifford, P.C. understand that, as a parent, you only want what's best for your child and that includes having the best options available to them. Our firm offers free criminal defense consultations. We will explain what to expect and work with you to develop a strategy tailored to your child's unique circumstances.
Contact An Experienced Newtown Criminal Defense Attorney About Your Charges In Pennsylvania
Was your child charged with sexting in Pennsylvania? A criminal conviction can carry with it heavy fines, jail time and fewer opportunities later on in life. That is why it is imperative that you speak with a qualified criminal defense lawyer about your case. The experienced attorneys at Rubin, Glickman, Steinberg & Gifford, P.C. represent clients charged with sex crimes such as sexting in Doylestown, Lansdale, King of Prussia, Norristown, and throughout Southeastern Pennsylvania. Call (215) 822-7575 or fill out our confidential contact form to schedule a free consultation about your case. We have an office located at 2605 N. Broad St., Colmar, PA 18915, in addition to an office located in Newtown, PA.
The articles on this blog are for informative purposes only and are no substitute for legal advice or an attorney-client relationship. If you are seeking legal advice, please contact our law firm directly.