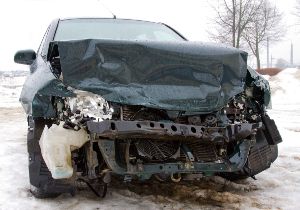 Pennsylvania is home to a wide range of accidents, such as multiple vehicle crashes, pedestrian crashes, truck crashes, bicycle crashes, motorcycle crashes, and more. Accidents involving only one vehicle also make up a large proportion of accidents. Although the name implies otherwise, single-vehicle car accidents can be just as dangerous as multi-vehicle accidents. 
In Pennsylvania, most single-vehicle accident victims assume they will be held responsible for the crash because no one else was involved at the time of the accident. However, this is not always true. Those injured due to a single-vehicle accident in Montgomery County and others throughout the state of Pennsylvania can turn to Rubin, Glickman, Steinberg, & Gifford P.C. for help determining liability. Let's take a look at how many are liable in a single-vehicle accident below.               
Factors Contributing to Single-Vehicle Accidents in Pennsylvania
In the latest reporting year, nearly 55,000 vehicle crashes in the Commonwealth were caused by single-vehicle accidents, according to data provided by the Pennsylvania Department of Transportation. Based on DOT data for the latest year, single-vehicle crashes accounted for nearly 44% of all crashes. The incidents often involve single vehicles striking fixed objects.
The result of these single-vehicle crashes is often serious injury or even death. In fact, when a vehicle hits a fixed object, fatalities are much more likely to occur than when two vehicles collide. When a single vehicle crashes, there may be instances where the driver is to blame; but in some cases, other parties may be liable. In Pennsylvania, single-vehicle collisions are caused by some of the following factors:
Unmaintained or poorly constructed roads

Hazardous road conditions

Dangerous construction zones

Improperly placed roadway signs

Insufficient roadway drainage systems 

Malfunctioning vehicles
If you were recently injured in a single vehicle accident, it may not be immediately clear whether you are liable for all of your damages. There may be several entities responsible for the conditions that led to your crash. Don't hesitate to contact our firm to learn more about liability in these unique situations. After a free consultation, you may have the information you need to understand your legal options.
Proving Liability in Single Vehicle Accidents Requires Technical Expertise  
If a single-car crash investigation indicates that another party is at fault, the victim may be able to file a claim for compensation to cover their financial losses. If possible, you will need to work with an experienced attorney who has the resources necessary to investigate the following: 
Surveillance footage

Records of highway maintenance

Crash scene photos

Eyewitness statements

Accident or police reports
Often, state and local governments may be liable for these incidents. Additionally, liability for a faulty road may fall on construction companies or third-party companies that neglect or do not properly maintain roadways. Whatever the case, proving fault is the most challenging aspect of a successful single-vehicle accident claim. Your attorney must gather and collect evidence quickly, and employ strong negotiation skills to reach a fair settlement agreement. 
Statute of Limitations on Single Vehicle Accident Injury Claims 
The sooner an insurance claim is filed after a collision, the better. Accident victims in Pennsylvania need to understand that the statute of limitations for filing most car accident claims is two years from the date of injury. Those who intend to make a claim against state or municipal government entities may have less time, so it is vital that victims hire a personal injury lawyer as soon as possible to assist them through the process.                                                                              
Work with an Experienced Car Accident Attorney in Southeastern Pennsylvania 
Depending on the facts of your case may be entitled to compensation for your injuries and other losses after a single-vehicle crash. Sometimes, it may be difficult to prove liability in a single-vehicle crash; however, a seasoned car accident lawyer will be able to use their knowledge and resources to investigate the accident, determine fault, and obtain the maximum compensation owed to you. 
Our firm has over 65 years of dedicated personal injury experience and a distinguished history of success. At Rubin, Glickman, Steinberg, & Gifford P.C., we are prepared to provide you with sound legal counsel. If you do not have a reputable lawyer on your side, you may never get the compensation you deserve. Speak to a Southeastern Pennsylvania car accident lawyer today by calling (215) 822-7575 or completing our contact form to schedule a free consultation.