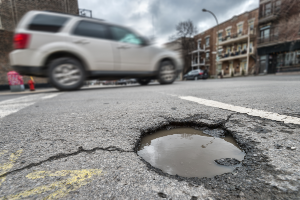 Lack of roadway maintenance is frequently the cause of car accidents in Pennsylvania. Road defects, traffic congestion, and general roadway erosion form potholes. Potholes are more than just serious bumps in the road as they can be harmful to drivers, motorcyclists, bicyclists, and pedestrians. A hidden pothole can cause any roadway user to sustain property damage or suffer serious personal injuries during an accident.
Since potholes pose a great threat to public safety, this begs the question of who is liable if a pothole causes a car accident. To learn about liability when poorly maintained roads cause car accidents, ways to reduce pothole damages or injuries, and how to file a claim, read on below.
Who Is Responsible for Preventing and Repairing Potholes?
Road maintenance, aging, and design usually fall under the ownership of the city, county, or state in which your accident took place. However, in certain situations, more than one state government or local municipality may be charged with sustaining the roadways, or they may outsource these duties to other parties. Whichever the case, it's critical that roadways are routinely inspected for damages, hazards, or defects.
Keeping roads safe for all requires many responsibilities, including:
Road and highway cleaning
Road resurfacing, crack filling, or painting
Road repaving
Road shutdown and detours
Road warning signage
Minimizing Potential Damages and Injuries Caused by Potholes
It's almost inevitable that at some point, you'll encounter a pothole. Unfortunately, they can cause significant damage to your personal vehicle in the form of a tire blowout or bent rim. As a result, these issues can cause you to lose control of your vehicle and overturn your car. In other instances, you can strike a passenger vehicle head-on, from behind, or from the side. Depending on the roadway conditions, the speed of your car, and the depth of the pothole, the force of impact can be devastating for all those involved.
Although you can't always predict when or where a pothole may be, you can minimize the potential damages and injuries they cause. Here are some practical tips for dealing with potholes:
Maintain proper tire pressure
Don't speed
Travel on well-lit roads
Keep enough room between you and other drivers
Adjust your speed to fit road and weather conditions
Avoid driving through puddles of water when possible
How to File a Claim against a Government Entity in Pennsylvania
Whether a government agency is fully or partially liable for your car accident, you may have grounds to file a personal injury claim to collect funds for your medical bills, lost wages, property damages, and pain and suffering. However, the personal injury process involving a government entity is rather more complicated than one involving another driver.
First and foremost, you must identify who operates the road where your crash occurred. Afterward, follow these necessary steps:
Find out the legal deadline to pursue action. Keep in mind that there are shorter statutes of limitations on claims against the government. In Pennsylvania, you have six months from the date of your accident to bring an injury claim against a negligent government entity.
File your lawsuit on time. Make sure you serve the correct defendant with all necessary information. If you're filing a claim against the state, you will need to provide the attorney general with a written statement of what occurred. Your notice must include your name and address, the date, time, and location of the accident, and the name and office address of your doctor.
Prove liability and damages. You must show that the pothole was the direct cause of your accident and injuries, and that the government agency managing the roadway had a duty to maintain the road and failed to do so.
Get Compensated for Your Losses in Pennsylvania
If you or a loved one has been injured in a car crash caused by a pothole, the Pennsylvania car accident lawyers at Rubin, Glickman, Steinberg & Gifford P.C. are here to help you pursue full compensation for your losses. Facing government agencies can seem intimidating, which is why we make it a point to represent you and your best interests in each phase of the legal process.
At Rubin, Glickman, Steinberg & Gifford, we'll provide you with personalized legal services and compassionate guidance. With over 65 years of legal experience, our team is capable of handling even the toughest of cases. We are attentive, focused, and there for you when you need us most. Find out if you have a viable case by completing our online contact form or calling 215-822-7575 today.