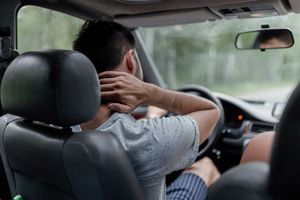 People rarely come out of car accidents unscathed. There is always property damage or an injury following a car crash. Many people's lives are thrown off balance due to their resulting injuries, with neck, back, and head injuries being common. Many people suffer from long-term spine injuries after a car crash, which are some of the most troublesome injuries you can receive from a car accident.
Spine injuries can be put into two categories: complete or incomplete. Understanding the difference between these two could help you know what to expect as you recover. Furthermore, if you suffered a spinal cord injury after a car crash, you might be entitled to financial compensation. With the help of a spinal cord injury lawyer, you can fight for fair compensation and the justice you deserve.
Complete Spinal Cord Injuries
According to the American Association of neurological surgeons, nearly 50% of all spinal cord injuries are complete. With complete spinal cord injuries, the cord itself is rarely cut. Bruises to the spinal cord or compromised blood flow to the affected region of the spinal cord are the most common causes of spinal cord injuries (SCI).
The trauma from the accident causes existing axons and nerves in the affected area to malfunction. As a result, the sufferer experiences a complete loss of all motor and sensory function below the injury area, affecting both sides of the body. On the American Spinal Injury Association (ASIA) grading scale, complete spinal cord injuries are the highest letter grade, an ASIA A.
Incomplete Spinal Cord Injuries
In an incomplete spinal cord injury, the victim's spinal cord still retains the ability to send and receive information to and from the brain. The sufferer can experience some sensation and movement below the injury area, so one side of the body may function better than the other. For example, they may be able to move one of their legs.
On the American Spinal Injury Association (ASIA) grading scale, incomplete spinal cord injuries can range from ASIA D to ASIA B, with D being the closest to normal. The severity of a spinal cord injury impacts the victim's chances of recovery—the higher the injury's grade, the less likely it is that a full recovery will occur.
Hire an Experienced Spinal Cord Injury Lawyer to Fight for You
Regardless of your spinal cord injury's severity, the amount of pain, trauma, and loss you experience will still be immense. You will still have to undergo a long recovery process and be billed costly medical expenses to cover treatments, surgeries, and rehabilitation. You could incur a massive amount of medical debt that would ruin you financially, which should not be your responsibility if you were not at fault for the accident.
The legal team at Rubin, Glickman, Steinberg & Gifford, P.C., can help secure the financial compensation you need to cover your medical expenses and anything else you have lost because of the accident. You can fill out our contact form or call us at (215) 822-7575 to schedule your free consultation.