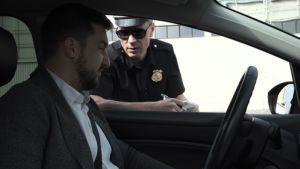 The Fourth Amendment of the United States Constitution holds that every individual has a right to live free from unreasonable search and seizure by law enforcement. The founding fathers were concerned about unfair bodily and home searches while drafting this amendment. In modern times, there has been extensive debate about whether this right extends to a driver and his vehicle. One case concerning the legality of motor vehicle searches reached the U.S. Supreme Court in 2009. The Supreme Court's decision laid out the ways in which this amendment should be applied to different traffic stops, and it has become a foundation for understanding the Fourth Amendment in the context of drivers on the road.
Probable Cause for a Traffic Stop in Bucks County, Pennsylvania
The Court's decision allows warrantless searches, depending on the cop's reasons for stopping the motor vehicle. When a police officer has already established that the driver is under arrest, they can search the vehicle. When an officer has probable cause that evidence of a crime will be found, a search can be conducted. In addition, police searches of a car are legal when evidence of an illegal activity is in plain view or when the driver consents to a search. A police officer who doesn't have any legal basis to search your vehicle will often ask for consent, and you don't have to comply.
Talk to an Experienced North Wales Criminal Defense Attorney About Your Pennsylvania Traffic Stop
The most commonly challenged aspect of traffic stops is probable cause arguments that police tend to make to justify a vehicle search. A police officer may claim to smell a marijuana odor or attempt to fabricate a cause to search your car. It's important to know your rights. The Pennsylvania criminal defense attorneys at Rubin, Glickman, Steinberg & Gifford P.C. will fight to get any evidence obtained in an illegal search thrown out in court. We handle criminal defense cases throughout Bucks County and Montgomery County, PA, including New Britain, Quakertown, Perkasie, North Wales, Lansdale, and Hatfield. If you think your rights were violated in an unlawful traffic stop, then call 215-822-7575 or fill out the online form to discuss your case with one of our criminal defense lawyers.
The articles on this blog are for informative purposes only and are no substitute for legal advice or an attorney-client relationship. If you are seeking legal advice, please contact our law firm directly.