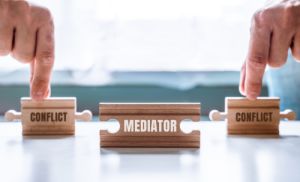 By: Mara Hershberger, J.D.
Half of Pennsylvania is shut down until June 4, 2020, at the earliest. This means courts are closed and your personal injury lawsuit or domestic relations issue cannot be litigated. Likely, your dispute will not go to court for a while due to a backlog after courts re-open. If you would like a quicker outcome or are worried about your health going to a crowded court in the future, mediation might be a good way to help resolve your dispute.
Mediation is a form of alternative dispute resolution—legal speak, for a way to avoid going to court while still getting an outcome—and it is an option which can be exercised at any point during the litigation process for any civil matter, including family law matters. The disputing parties must all agree to a mediation and select a mediator, often a former judge or an attorney, who is a neutral third-party hired to help resolve the issue. Prior to a mediation, the attorneys will prepare memos, which outline the evidence and the issues from each party's perspective. Right now, many mediators are doing video conference mediations, so you do not even have to leave your home to attend.
At mediation, the mediator will meet everyone and then discuss the strengths and weaknesses of each side with the attorneys. A mediator's job is to resolve the dispute in a fair way, by trying to balance each party's wishes. Mediation is not binding unless everyone agrees to a settlement. If everyone agrees to a settlement, an agreement is signed, and your dispute is completed, without ever needing to go to court.
If you are in need of legal services, call the lawyers at Rubin, Glickman, Steinberg and Gifford, P.C., Colmar, PA. We can be reached at 215-822-7575. We offer a free, initial consultation.
The articles on this blog are for informative purposes only and are no substitute for legal advice or an attorney-client relationship. If you are seeking legal advice, please contact our law firm directly.