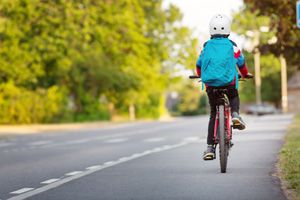 Your child's safety is at the top of your priorities list. When the summer months hit, and the weather heats up in Pennsylvania, your kids will likely opt for more outside activities. One popular summer activity for children is bike riding. While riding a bike is great for your kids to exercise and get out their energy, there are many risks.
Rubin, Glickman, Steinberg & Gifford, P.C. is a team of award-winning lawyers with over 65 years of experience helping clients who have had their children injured in a bike accident. If your child was hurt in a bike accident in Pennsylvania, it is essential that you know what steps to take next.
Steps to Take if Your Child Was Injured in a Bike Accident in Pennsylvania
A parent's worst nightmare is to get the news that their child has been hurt in a bike accident. The moment that you learn that a vehicle has struck your child while they rode their bike, you may easily begin to panic, but it is crucial that you remain as calm as possible and focus on their immediate care. After your child has been injured in a bike accident, the following steps are essential to ensuring their health and well-being:
Check your child for severe injuries and make them as comfortable as possible without moving them
Call emergency services
Do not leave the scene, especially if your child is badly injured; you will need to wait for law enforcement and emergency medical technicians to arrive at the scene
Exchange contact and insurance information with the driver who hit your child
Give your statement for the police report
Take photos and videos of the accident scene and any visible injuries on your child
Ask any eyewitnesses if they would provide you with a brief statement and their contact information
Once you have ensured that your child is safe and is getting the medical treatment that they need, it is crucial that you contact an experienced bike accident lawyer to get started filing your injury claim.
Can you Collect Damages After Your Child Is Injured in a Bike Accident?
Drivers hold a duty of care to drive reasonably safe in order to prevent harm to themselves or others. Unfortunately, when a driver acts negligently, they may cause a bike accident where your child is left injured. Regardless of the severity of your child's injuries, you deserve to receive compensation to cover the cost of any losses you may have suffered as a result of the driver's negligence. The damages you may be eligible to collect include:
Medical expenses
Property damage
Pain and suffering
Wrongful death
If you are unsure what damages you may be eligible to collect, a trusted bike accident lawyer may be able to help by going over the details of your claim. The insurance providers will often try to offer the lowest possible amount in compensation, but an experienced lawyer will be able to negotiate on your behalf to secure the maximum possible amount in damages.
Get Help From a Pennsylvania Bike Lawyer Today
If your child has been injured in a bike accident caused by a negligent driver, you deserve to be compensated. To get help with your claim, contact a Pennsylvania bike lawyer as soon as possible.
The experienced lawyers at Rubin, Glickman, Steinberg & Gifford, P.C. are dedicated to helping clients get the compensation they deserve. We offer our clients trusted representation and the personalized services they deserve. To schedule a free consultation, contact us here or call (215) 822-7575.