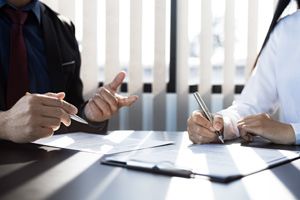 Whether you are a generally safe driver or have a less-than-perfect driving record, accidents can happen when they are least expected. After a crash occurs, one of your first steps should be to contact your insurance provider to begin the process of pursuing compensation for your injuries and losses. Even if the accident was caused by another party, insurers will always be looking for any opportunity to provide you with as little compensation as possible. That is why it is important to know what you should avoid telling your insurance company after a Pennsylvania car accident.
Rubin, Glickman, Steinberg & Gifford, P.C. is a personal injury law firm with over 65 years of experience helping clients who have been injured in car accidents in Southeastern Pennsylvania. Our team is dedicated to ensuring we help you pursue the maximum possible amount in compensation.
What You Should Not Tell Your Insurer After a Car Accident in Pennsylvania
The moments following a car accident can be chaotic and overwhelming as the drivers and passengers involved try to understand what just happened. Once you have ensured that you and any passengers are safe from immediate danger, there are important steps you should take to protect your overall well-being. One essential step you should take following a Pennsylvania car accident is to call your insurance company to begin the process of filing your injury claim.
While many people assume that if the accident was not their fault, the claims process will be straightforward and easy, that is not the case. Your insurance provider will always have the goal of awarding the lowest possible amount in compensation for your claim. In order to help you get the highest possible amount in fair compensation, there are several phrases that you should delete from your vocabulary when speaking to an insurer about your claim:
"It Was My Fault"
Even if you know that you caused a car accident, in interest of your injury claim, you should never admit fault to your insurance provider as they will likely use this admission against you. You should avoid the following related phrases:
"I am sorry"
I apologize"
Following a car accident, you should not apologize or admit fault to the other driver, your insurer, or law enforcement.
"I Think"
You should always stick to the facts when dealing with insurance companies. If your insurer asks a question about the accident that you do not know the answer to, it is better to not offer a response than to guess or give an opinion that may later be proven not true.
"I am Fine"
Do not say that you are fine or have not suffered any injuries if you are asked by an insurance company unless you have been examined by a medical professional who confirms that you suffered zero injuries.
Names
You should not provide the names or contact information of any family members, friends, or your doctor. Your insurer may try to contact these individuals for more information about the incident or your injuries that could potentially hurt your claim.
Unnecessary Details
Only provide information that is asked of you when speaking with your insurance company.
"I Accept"
Your insurance company may try to offer you a quick settlement. This first offer will likely be as low as possible in hopes you will be naive and accept. However, when you work with a car accident lawyer, they may be able to help you negotiate for a higher amount in compensation. You should not accept a settlement without consulting your legal counsel first.
Get Help From a Trusted Car Accident Lawyer
Our legal team is composed of highly trustworthy and well-versed legal professionals who understand the process of negotiating fair settlement for a car accident claim. We have over 65 years of experience and will examine the facts and circumstances surrounding your case to help achieve the best possible outcome. Call (215) 822-7575 or fill out our contact form to schedule a free consultation.