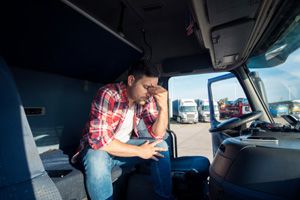 If you hold a Commercial Driver's License (CDL) in Pennsylvania, a DUI conviction could significantly impact your livelihood and freedom. Even if you were driving your own vehicle rather than your commercial truck when you were charged, you could still lose your CDL for an entire year. In some cases, you could face losing your CDL for life.
After being arrested and charged for a CDL DUI in Pennsylvania, it is essential to contact an experienced commercial DUI defense attorney as soon as possible to protect your rights and license. Your lawyer will get to know you and every detail of your case to develop the best defense strategy for your unique needs.
What Is the Legal Limit for CDL Holders in Pennsylvania?
The legal Blood Alcohol Concentration (BAC) limit for CDL holders in a commercial vehicle is much lower than the legal limit for drivers in a personal vehicle. As many Pennsylvanians know, the legal limit for driving a personal vehicle is a BAC of 0.08%. However, when operating a delivery truck, semi-truck, or another commercial vehicle, the legal limit drops to a BAC of 0.04%. The legal limit is a mere 0.02% if you operate a school bus.
Penalties for a CDL DUI in Pennsylvania
The penalties for a DUI while driving a commercial vehicle are severe. The penalties for a first time CDL DUI include:
Suspension of your CDL for one year (this suspension increases to three years if you were transporting hazardous materials)
Up to six months in jail
Up to $5,000 in fines
Suspension of your personal driver's license for one year
Mandatory drug and alcohol treatment and education programs
If you are convicted of a CDL DUI for a second time, your CDL could be revoked for life. It is essential to note that you can only be charged with a CDL DUI if you were driving a commercial vehicle. If you were driving your personal vehicle, a BAC of 0.08% is the legal limit, regardless of whether you hold a CDL for work. However, if you are charged with a DUI while operating your personal vehicle, you could still have your CDL suspended for one year if it is your first offense. If you are convicted of a DUI while driving your own car for a second time, you could face a lifetime suspension of your CDL.
Entrust Your Case to the Dependable Attorneys at Rubin, Glickman, Steinberg, and Gifford, P.C.
A CDL DUI charge can affect your employment, reputation, and freedom. When the stakes are this high, it is vital to partner with a legal expert. The skilled attorneys at Rubin, Glickman, Steinberg, and Gifford, P.C. have dedicated their extensive careers to protecting the rights of the accused. Our attorneys have over 60 years of experience defending and protecting their client's future's across Pennsylvania. To schedule a free consultation with a member of our exceptional legal team, call us today at (215) 822-7575 or complete our contact form.