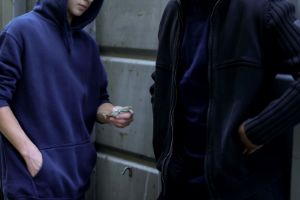 Sometimes, teenagers engage in behaviors that can have implications on their lives in ways they never intended. Drug-related activity typically falls under that category. One of the ways that teens land themselves in legal hot water is by sharing drugs with other teens, not realizing how that can result in an entirely new set of charges. Rubin, Glickman, Steinberg & Gifford, P.C. is an experienced and reliable Pennsylvania drug crimes lawyer. We have helped numerous families to deal with the ramifications of poor decision-making among wayward teens.
Sharing drugs not only may result in more severe criminal charges and penalties but also, can be extremely dangerous. One of the things you may want to know is whether sharing drugs among teens may result in being convicted as a drug dealer.
What Drugs are Teens Most Likely to Share?
A teen's drug of choice depends on the individual and environment. However, marijuana remains one of the most common drugs used among teens in the United States, with alcohol running a distant second. However, prescription drugs are quickly gaining steam among teens, and sharing those might present as much of a problem, if not more so than other types of substances.
Per The Foundation for a Drug-Free World, 90 percent of those addicted to prescription medications report starting use in middle or high school. Teens often access these medications by taking them from parents or grandparents without permission to do so.
Teens Who Share Drugs Face Harsher Penalties
If a teenager shares drugs with a friend, no matter how the drugs in question were obtained, they can be charged and convicted for dealing drugs. It does not matter if the teen sold the drugs to a friend or gave them away.
Moreover, if someone has an accidental overdose on drugs shared by a teen, they may face homicide charges as a result. Teenagers do not have to sell drugs to be held responsible for a substance they share with another person.
Why You Need an Expert Pennsylvania Drug Crimes Lawyer
Being charged with a drug-related crime is serious at any age. Your teen may not even realize the severity of the situation and the extent to which it can impact the rest of their life. Rubin, Glickman, Steinberg & Gifford has stepped in to help families combat drug-related charges and ensure that a simple mistake does not ruin the rest of their child's life.
We start by determining the facts of the case. Then, we create a savvy legal defense strategy to seek the best possible outcome for the case. We analyze everything from the way evidence was obtained to past criminal history to eyewitness statements. Our approach has helped many teens gain their freedom and get their lives back on track.
Schedule a Free Consultation to Learn More About Pennsylvania Drug Crime Laws
If your child has been accused of a drug crime, your first call should be to a Pennsylvania drug crimes lawyer. Rubin, Glickman, Steinberg & Gifford has the necessary legal expertise to help your family through this tumultuous time.
Schedule a free consultation today by calling (215) 822-7575 or contact us online to learn more.