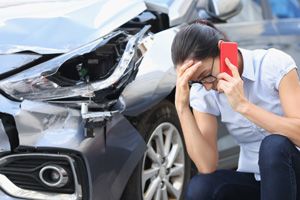 Following a car accident, one of the first things you need to do is notify your insurance company. However, it is essential to remember that the insurance company is not on your side. Like any other business, the main goal of an insurance company is to make money. Your insurance company may try to deny or devalue your claim to protect its bottom line.
When speaking to your insurance company, it is critical to avoid saying the wrong things to protect the value of your claim. An experienced car accident attorney can negotiate with the insurance company on your behalf to help ensure you are fairly compensated for your losses.
4 Things to Avoid Telling Your Insurance Company After a Car Accident in Pennsylvania
Your insurance company may use what you tell them about the accident as evidence to devalue or deny your claim. In order to receive the compensation you need, it is critical to avoid going into too much detail when you speak to your insurance company. Some things to avoid when speaking to your insurer include:
Admitting Fault
Even if you believe you may have been partially at fault for the collision, it is vital not to admit fault in any way. Apologizing to the other driver, your insurance company, or the police may be construed as an admission of fault. While many people think apologizing or owning up to mistakes may be the right thing to do, these statements can severely damage your chances of a fair settlement.
Saying You Are Uninjured
When you speak to your insurance company, do not tell them that you are okay or uninjured before being examined by a doctor. Many injuries that may seem minor or non-existent immediately following an accident could worsen over time without proper care. Additionally, you may be suffering from internal injuries that are not visible to the naked eye.
Saying, "I Think…"
If you are asked about specific details about the accident, it is perfectly acceptable to say that you do not know. Saying you do not know or do not remember is better than offering a guess or opinion as to what happened. Anything you say to your insurance company can be used against you as evidence, so it is crucial to stick to the facts.
Making a Recorded Statement
While you may think it is a good idea to have your side of the story on record, official statements only serve to help insurance companies, not accident victims. Your insurer will thoroughly review your recorded statement for inconsistencies and contradictions they can use against you. Unless your attorney advises you otherwise, it is in your best interest to avoid giving a recorded statement.
Consult With a Trusted Pennsylvania Car Accident Attorney
After speaking to the insurance company, they may try to offer you a settlement. However, these settlements will rarely cover your current and future medical needs. Before accepting a settlement, contact the experienced attorneys at Rubin, Glickman, Steinberg, and Gifford P.C. We have over 60 years of experience helping our clients in Pennsylvania secure the maximum compensation available for their claims. To schedule a free, no-obligation consultation, call us at (215) 822-7575 or complete our contact form.