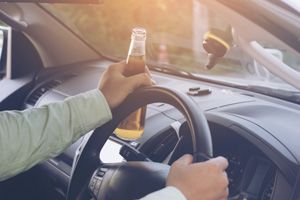 In Pennsylvania, driving under the influence (DUI) is incredibly common. According to PENNDOT, there were 49,730 DUI arrests in Pennsylvania in 2018. With such a preponderance of DUI arrests, it will be helpful to understand just how serious the consequences are for such a charge—even if you are a first time offender.
Being charged with a DUI can be a confusing, stressful event. In these instances, you need an experienced, compassionate attorney on your side.  The team at Rubin, Glickman, Steinberg and Gifford is the firm that can help you through this unfamiliar process.
How Are DUI Penalties Determined in Pennsylvania?
There are a number of different scenarios and criteria for determining penalties for a DUI in Pennsylvania. In general, the two main factors that are taken into account for determining the severity of a DUI charge are:
Blood Alcohol Content (BAC)
DUI history
Any DUI charge is triggered by the level of alcohol in your bloodstream, known as the blood alcohol content (BAC) level.  This is usually determined with a breathalyzer test administered on the scene, but can also be determined later by a blood or urine test.  Pennsylvania's legal limit is 0.08%.  Anything at or above that level means you will be charged with a DUI.
In addition, if you have prior DUIs on your record, you can expect more severe punishments.  Pennsylvania has a scale for determining penalties based on the number of offenses on your driving record:
First Offense: Up to six months probation, up to $300 fine, attendance at a highway safety school, and treatment for alcohol or drug abuse when ordered by a judge
Second Offense: Misdemeanor, one year license suspension, up to six months in jail, up to $2,500 fine, one year of an ignition interlock program, alcohol treatment, highway safety school
Third and Subsequent Offenses: Felony charges, one year license suspension, up to two years in prison, between $500 and $5,000 fine, CRN evaluation, alcohol treatment when ordered, one year of an ignition interlock program
Felony DUI:  Pursuant to 75 Pa. C.S.A. 3803(a)(3), adopted in 2018, anyone previously convicted of Homicide by Vehicle While DUI will be charged with felony DUI for a subsequent DUI prosecution. Also, fourth and subsequent violations of Section 3802 within 10 years are graded as felonies of the third degree, punishable by up to 7 years in prison.  A third offense involving a BAC of .16 or higher, or involving a refusal to provide breath/blood, or with drugs in the driver's system within 10 years is a felony of the third degree.
Even though you will not necessarily lose your license after a low BAC first DUI offense, it would be wise to not test these penalties. As always, the best defense for a DUI is to not get one in the first place.
How to Get Your Driver's License Reinstated
Again, most DUI convictions will cause you to lose your license, even if it is your first DUI offense.  Every subsequent DUI offense will result in a license suspension between 12-18 months. When that happens, you will need to follow the proper procedure to get your driver's license reinstated in Pennsylvania. The process requires you to apply with PENNDOT to get your driver's license reinstated.
Surrender Your Suspended Driver's License
The first step in getting your license reinstated is to surrender your suspended license to PENNDOT.  Once you do that, your suspension period will be activated.
Complete the Suspension Period
The length of your suspension period depends on the punishment that was handed down during your sentence. The suspension period will need to be completed in full.
Pay Reinstatement Fees
On top of any fines you may incur from a DUI, there are fees to reinstate your driver's license and registration. These costs may vary, but the restoration fee is $94 for the registration and $88 for the license.
Meet Court Conditions
When the judge orders you take alcohol education classes or treatment, these programs must be completed before a license will be reinstated. Failing to do so will mean a denial of your application for reinstatement.
Show Proof of Car Insurance
As a licensed driver in Pennsylvania, you are required to have liability car insurance. To get your driver's license reinstated, you have to show that you are covered by an insurance policy before it will be given back to you.
Obtain an Interlock Device/Restricted License
Often in order to obtain one's license following a DUI conviction, a driver must obtain a restricted license and have an interlock device installed in their vehicle for 1 year following a DUI license suspension.  This requirement typically follows a second or subsequent DUI conviction.
Experienced Pennsylvania DUI Lawyers
Even if you have only been charged with a DUI for the first time, a license suspension could still be around the corner. Our team of experienced Pennsylvania DUI attorneys at Rubin, Glickman, Steinberg and Gifford have over 65 years of experience and a thorough understanding of the law and requirements of a license suspension. Contact our Montgomery or Bucks County office today to set up a free initial consultation. Call any time at (215) 822-7575 or contact us through our website.